Organic Elderberry Syrup
Regular price
Sale price
$35.00 AUD
Unit price
per
Description

Naturopath approved recipe. 

Fresh Batches made weekly.


Elderberry Syrup is one of the most widely used wellness products for supporting and boosting the body's immune system.

Often taken to help fight off the cold and flu viruses, elderberry syrup is the go-to wellness product for many people who are trying to stay healthy.

Our elderberry syrup is handcrafted in small batches with organic elderberries, herbs and raw honey from our apiaries in the heart of the Mount Dandenongs. 


A traditional recipe that's been passed down through generations. Just like my grandmother used to make it. 

Elderberries have been known for centuries for their immune boosting abilities, and have been shown in studies to enhance immune system function for defending and fighting against disease. Elderberries boost the production of cytokines, which are the body's "messengers" for immune system defence. They are also filled with antioxidants for reducing inflammation in the body from being sick or under attack. 
Ingredients

Pure filtered water free of fluoride and other contaminants, Raw Organic honey cold extracted with propolis and pollen, Certified Organic Elderberries, Certified Organic Cinnamon, Certified organic Ginger, Certified Organic Echinacea, Certified Organic Star Anise. 

Elderberry is a plant that is most highly recognized as a natural health remedy, to support immune systems.  
All of our elderberry products are made from the dried berries of the Sambucus Nigra plant.



WHAT ARE SOME BENEFITS?

The berries and flowers of elderberry are packed with antioxidants and vitamins that may boost your immune system.

They could help tame inflammation, lessen stress, and help protect your heart, too.

Some experts recommend elderberry to help prevent and ease cold and flu symptoms.




WHAT MAKES YOUR ELDERBERRY PRODUCTS DIFFERENT FROM THE KIND I CAN BUY AT THE GROCERY STORE?

Two things distinguish us from store-bought elderberry syrup: ingredients and cost.

As opposed to glucose syrup and other additives, we use raw, local honey in our syrup. Also, we don't add preservatives to our syrup, and our berries are certified organic. We make fresh weekly. 

WHERE DO YOUR ELDERBERRIES COME FROM?

We source dried organic elderberries from Bosnia, Croatia and Albania. They are Australian passed certified organic. 

WHY IS YOUR SYRUP NOT SHIPPED COLD?

Our syrup is certified as "non-hazardous" which means that it does not create a hospitable environment for harmful bacteria to grow. Our instructions to refrigerate upon arrival are for quality purposes, not safety. Being outside of the fridge for even up to week may take a few days off its full shelf life of 60 days but not compromise the safety of our product. We recommend getting it in the fridge upon arrival!

 
Suggested use

Adult & Children over 12. 
1 tablespoon once daily.
* When ill, or at the first signs of illness, take 1 tablespoon three times daily.


Children's Dosages
(For children between the ages of 5 and 12 years old.)
take 1/2 tablespoon once daily.
* When ill, or at the first signs of illness, take 1/2 tablespoon three times daily.


Toddler's Dosages
(For children between the ages of 1 and 4 years old.)
One teaspoon once daily.
* When ill, or at the first signs of illness, take one teaspoon to 1/2 teaspoon three times daily.

*Not suitable for children under one year of age due to honey content.
Disclaimer

I'm not a doctor. All information is intended for your general knowledge only and is not a substitute for medical advice or treatment for specific medical conditions. You are responsible for your own health and for the use of any remedies, treatments, or medications you use at home. This product has not been evaluated by the Therapeutic Goods Administration (TGA Australia) and is not approved to diagnose, treat, cure or prevent disease.
Share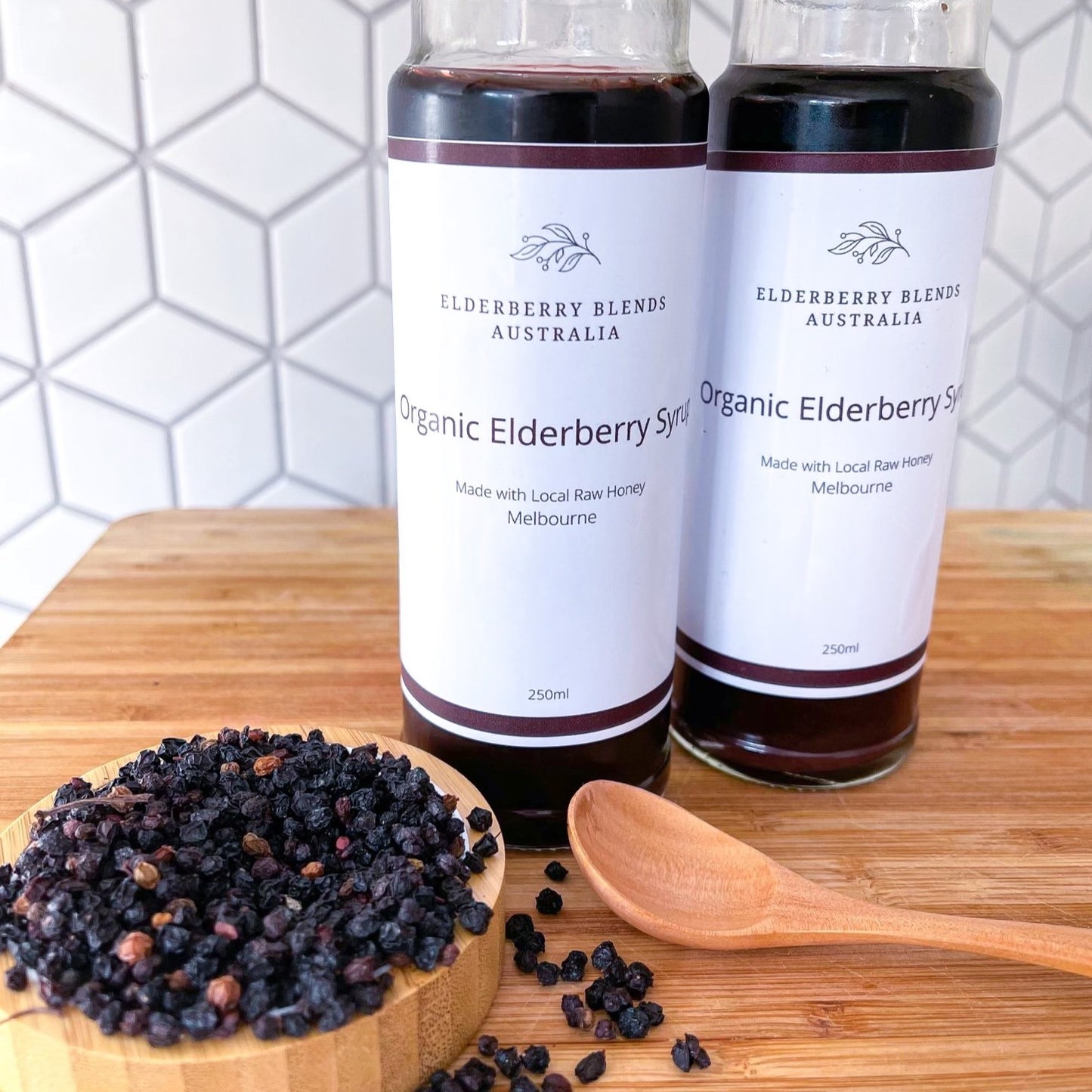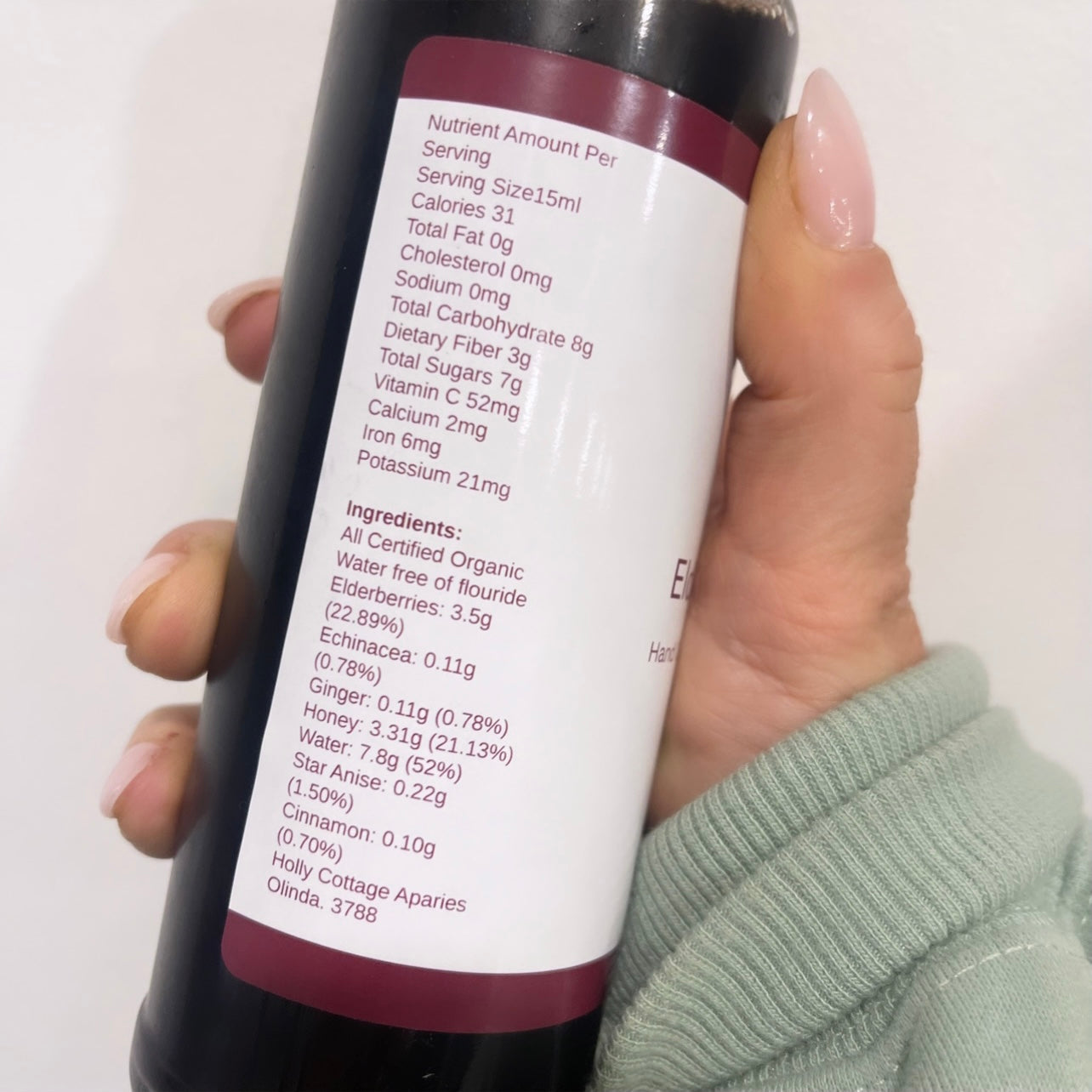 Perfect for whole family!
Delicious syrup that the whole family loves to take! Has helped to keep severity of winter germs at bay!!! Amazing product!!!
Amazing
We love this product so much! We use it most days especially when we feel a cold coming on.
Simply The Best
This is our go to syrup. I know it's the highest quality and always have it on hand. Highly recommend this to everyone!
Great product and service
Ordered products in the midst of the flue and received the parcel the next day, so prompt! Also so kind in adding some lovely wellness tea to the order. The whole experience from beginning to end has been awesome.