Infused Elderberry Honey 100% Raw Australian Honey
Regular price
$49.00 AUD
Sale price
$49.00 AUD
Unit price
per
Description

First of its kind in Australia.

We have infused two super foods into one!

We are the woman of bee keepers. 
3 generations of bee keeping.  

Combining our two loves into one was a no brainer. Elderberries and Raw Honey. 

Elderberries are know for their potent antiviral, calming inflammation and immune boosting properties, so what better way than to pair it with another super ingredient...

Made with our local raw honey that's been cold extracted with propolis and pollen. Our elderberries are solar infused in the honey for 21 days, before we strain and bottle ready for consumption. Raw honey is packed with antioxidants and considered a prebiotic , it can help calm a sore throat or aid in digestion its a delicious natural sweetener.
Our Honey

A unique blend of the best raw Australian Honey including; Birch, Maple and mixed blossom, infused with Certified Organic Elderberries. 

Our honey is the best, raw, locally sourced Australian honey with the naturally sweet flavours of indulgent blossom and citrus. Sourced from the mountain tops of the Mount Dandenong's free of pollution and pesticides. A unique blend infused with the incredible healing properties of organic elderberries, which makes this honey delicious and truly exceptional.

Power packed and good for you with healing and immunity aiding properties this honey is extremely special. 


Our honey is raw and not heat treated so may crystalise when stored or exposed to cooler temperatures.

Why is this honey more expensive? 
Our honey is turned daily for 21 days. By hand. Slowly. The elderberries move from top to bottom and bottom to top. As the elderberries do this they infuse slowly throughout the honey over time.  Using the suns natural energy. Turning our honey to a beautiful light red colour. 


This is special in itself. As it's naturally infused, unlike mass production of infused honey where they heat the honey in order to get a quick infusion. Our honey is treated with respect and never bottled or infused in plastic. 

These statements have not been evaluated by the TGA. This product is not intended to diagnose, treat, cure or prevent any disease. For medical advice please seek the guidance of a qualified medical practitioner before using our products. Raw honey is not recommend for children under 12 months. 

Elderberry is a plant that is most highly recognized as a natural health remedy, to support immune systems.  
All of our elderberry products are made from the dried berries of the Sambucus Nigra plant.



WHAT ARE SOME BENEFITS?

The berries and flowers of elderberry are packed with antioxidants and vitamins that may boost your immune system.

They could help tame inflammation, lessen stress, and help protect your heart, too.

Some experts recommend elderberry to help prevent and ease cold and flu symptoms.




WHAT MAKES YOUR ELDERBERRY PRODUCTS DIFFERENT FROM THE KIND I CAN BUY AT THE GROCERY STORE?

Two things distinguish us from store-bought elderberry syrup: ingredients and cost.

As opposed to glucose syrup and other additives, we use raw, local honey in our syrup. Also, we don't add preservatives to our syrup, and our berries are certified organic. We make fresh weekly. 

WHERE DO YOUR ELDERBERRIES COME FROM?

We source dried organic elderberries from Bosnia, Croatia and Albania. They are Australian passed certified organic. 

WHY IS YOUR SYRUP NOT SHIPPED COLD?

Our syrup is certified as "non-hazardous" which means that it does not create a hospitable environment for harmful bacteria to grow. Our instructions to refrigerate upon arrival are for quality purposes, not safety. Being outside of the fridge for even up to week may take a few days off its full shelf life of 60 days but not compromise the safety of our product. We recommend getting it in the fridge upon arrival!

 
Suggested use

This honey should be treated as a medicinal honey.

It shouldn't be heated or added to tea. It should be taken cold by a teaspoon full as needed.

To soothe a sore throat or cough. Heating honey over 45 degrees will destroy all beneficial properties. 
Share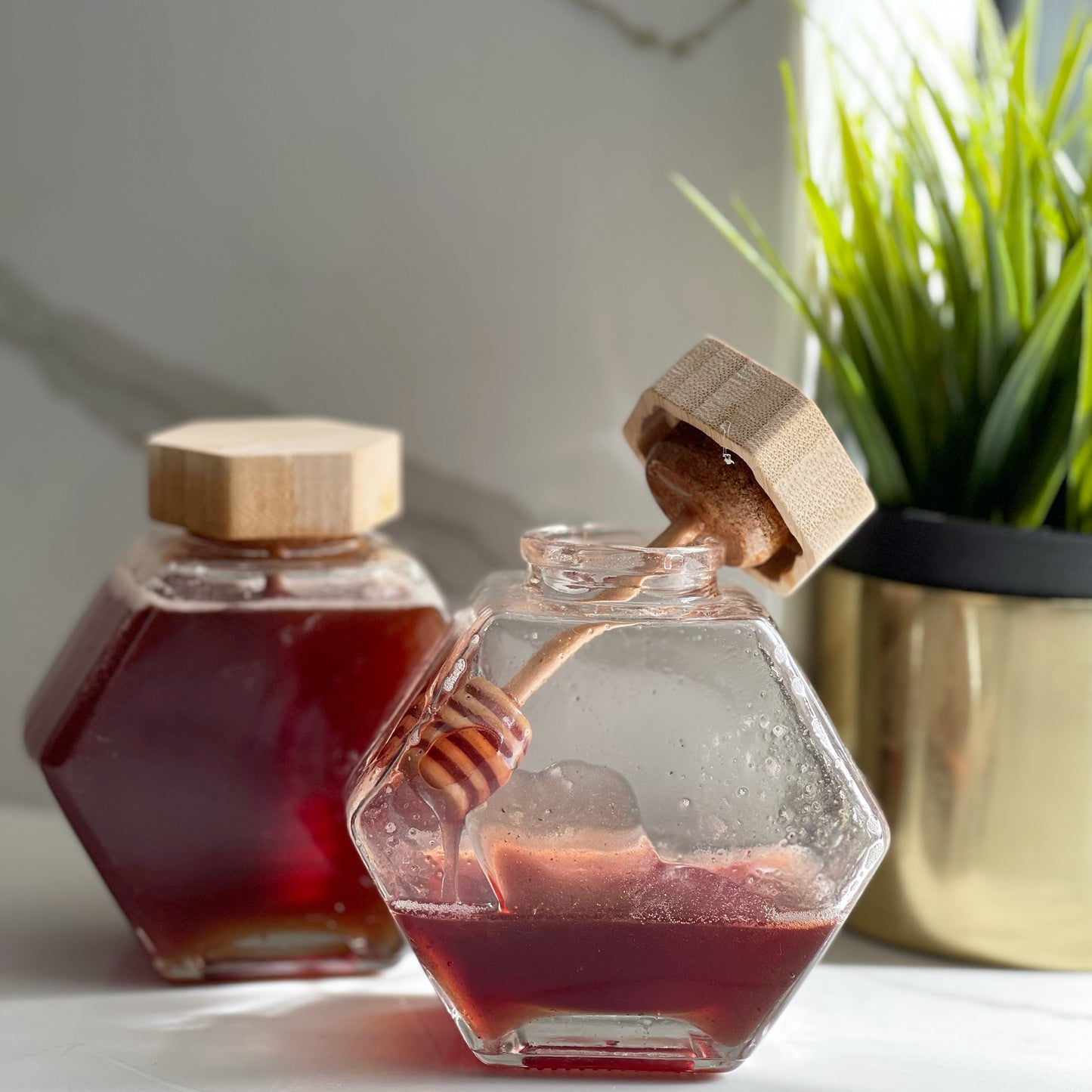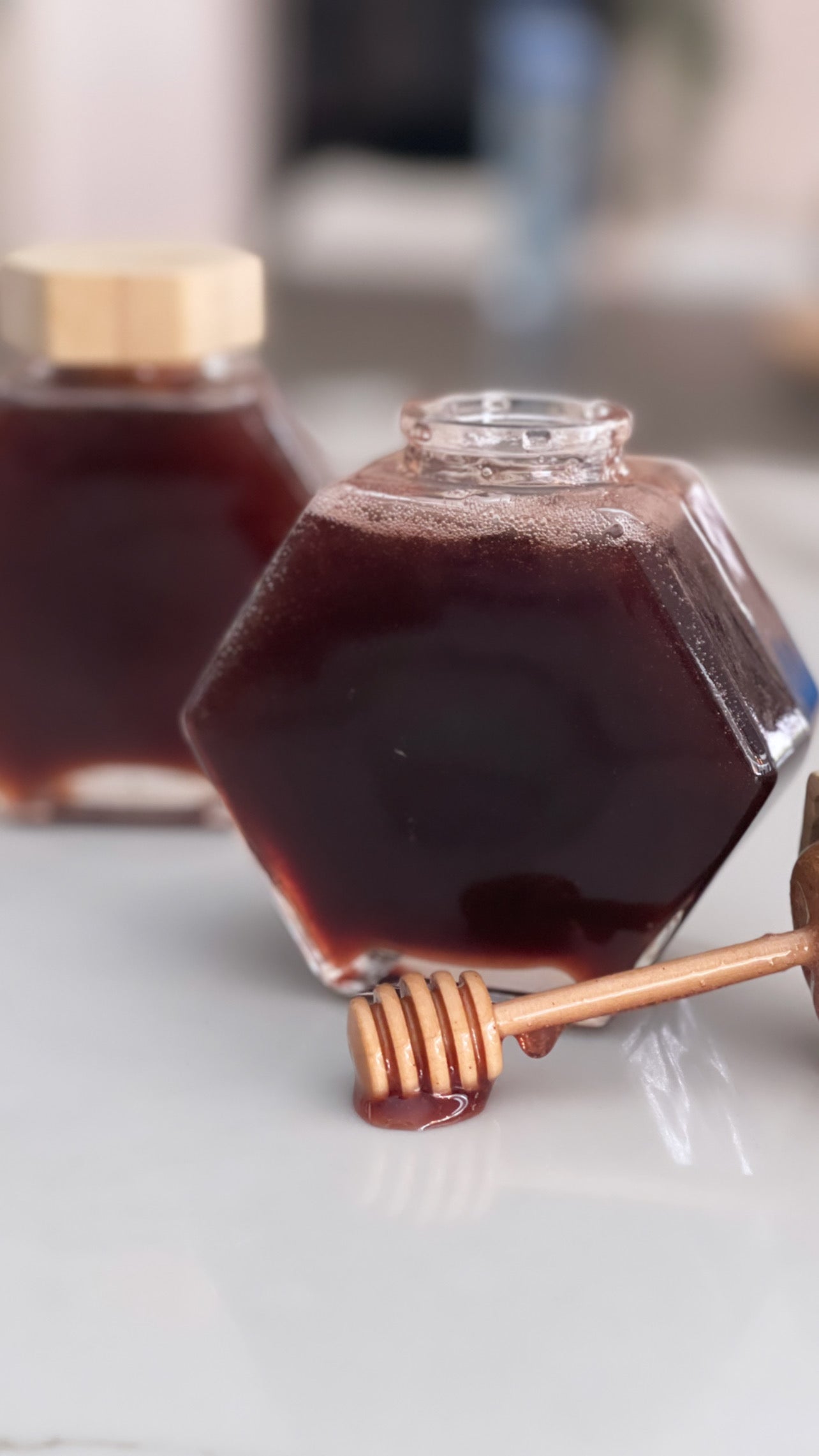 WOW
This elderberry infused honey is absolutely delicious! Beautifully made, presented and packed full of goodness. It's now my favourite honey. Thank you so much, Im ordering again! ❤️
Hands down my favourite
Super impressed with this elderberry infused honey. Tastes amazing and I have been using it to help heal a sore throat.
10/10
BEST ELDERBERRY!!! HIGHLY RECOMMEND
I highly recommend!! The elderberry syrup and honey is honestly a game changer. It has helped our whole family when the flu season is around, it has supported our immune system, taste absolutely delicious and the whole process to order is so simple and easy. It's very effective and really does work and do wonders. My kid takes it everyday and he loves the taste of it and takes it down so easily.
The best there is!
Great taste not to mention benefits, I have it every morning,strongly recommend it... it's like nothing you have had ever before.