Elderberry Wellness Tea
Regular price
$22.00 AUD
Sale price
$22.00 AUD
Unit price
per
EXPERTLY CRAFTED – CERTIFIED ORGANIC – SUSTAINABLE HERBAL BLENDS - CAFFEINE FREE
50g loose leaf tea
Description

Formulated to assist your immune system by providing a nourishing kick of blended herbs. A blend of berry, citrus, and heat with a touch of sweetness to get you feeling better in no time. 

Let's talk about some of the beautiful herbs we have used to formulate this herbal tisane. Elderberries are packed with vitamin C and powerful antioxidants, they also help with muscle recovery and repairing cells. Ginger has long been used to remedy colds and flus so of course we have included this wonder herb in our blend, boasting some spicy heat, anti-nausea and immunity boosting properties. Lemongrass is known as "Fever Tea," used to bring fevers down and even control skin infections and irregular menstruation, a tasty way to aid digestion and detoxify the body. Lemongrass may also help to nip cold and flu symptoms in the bud.

A HEALTHIER LIFESTYLE IS 3-MINUTES AWAY: Incorporating our Herbal tea into your daily routine sets the foundation to a healthier and happier life. One cup of our Wellness tea helps promote healthy: blood sugar, inflammation, immunity, metabolism, and digestive health.
Ingredients

Organic Dried Elderberries
Organic Ginger
Organic Lemongrass
Organic Orange pieces
Organic Cinnamon Chips 

Elderberry is a plant that is most highly recognized as a natural health remedy, to support immune systems.  
All of our elderberry products are made from the dried berries of the Sambucus Nigra plant.



WHAT ARE SOME BENEFITS?

The berries and flowers of elderberry are packed with antioxidants and vitamins that may boost your immune system.

They could help tame inflammation, lessen stress, and help protect your heart, too.

Some experts recommend elderberry to help prevent and ease cold and flu symptoms.




WHAT MAKES YOUR ELDERBERRY PRODUCTS DIFFERENT FROM THE KIND I CAN BUY AT THE GROCERY STORE?

Two things distinguish us from store-bought elderberry syrup: ingredients and cost.

As opposed to glucose syrup and other additives, we use raw, local honey in our syrup. Also, we don't add preservatives to our syrup, and our berries are certified organic. We make fresh weekly. 

WHERE DO YOUR ELDERBERRIES COME FROM?

We source dried organic elderberries from Bosnia, Croatia and Albania. They are Australian passed certified organic. 

WHY IS YOUR SYRUP NOT SHIPPED COLD?

Our syrup is certified as "non-hazardous" which means that it does not create a hospitable environment for harmful bacteria to grow. Our instructions to refrigerate upon arrival are for quality purposes, not safety. Being outside of the fridge for even up to week may take a few days off its full shelf life of 60 days but not compromise the safety of our product. We recommend getting it in the fridge upon arrival!

 
Suggested use

BREWING GUIDE

1 teaspoon per cup (200-250ml). Steep for 1-3 mins in boiling water. (Guide only, please adjust to suit personal taste).
Share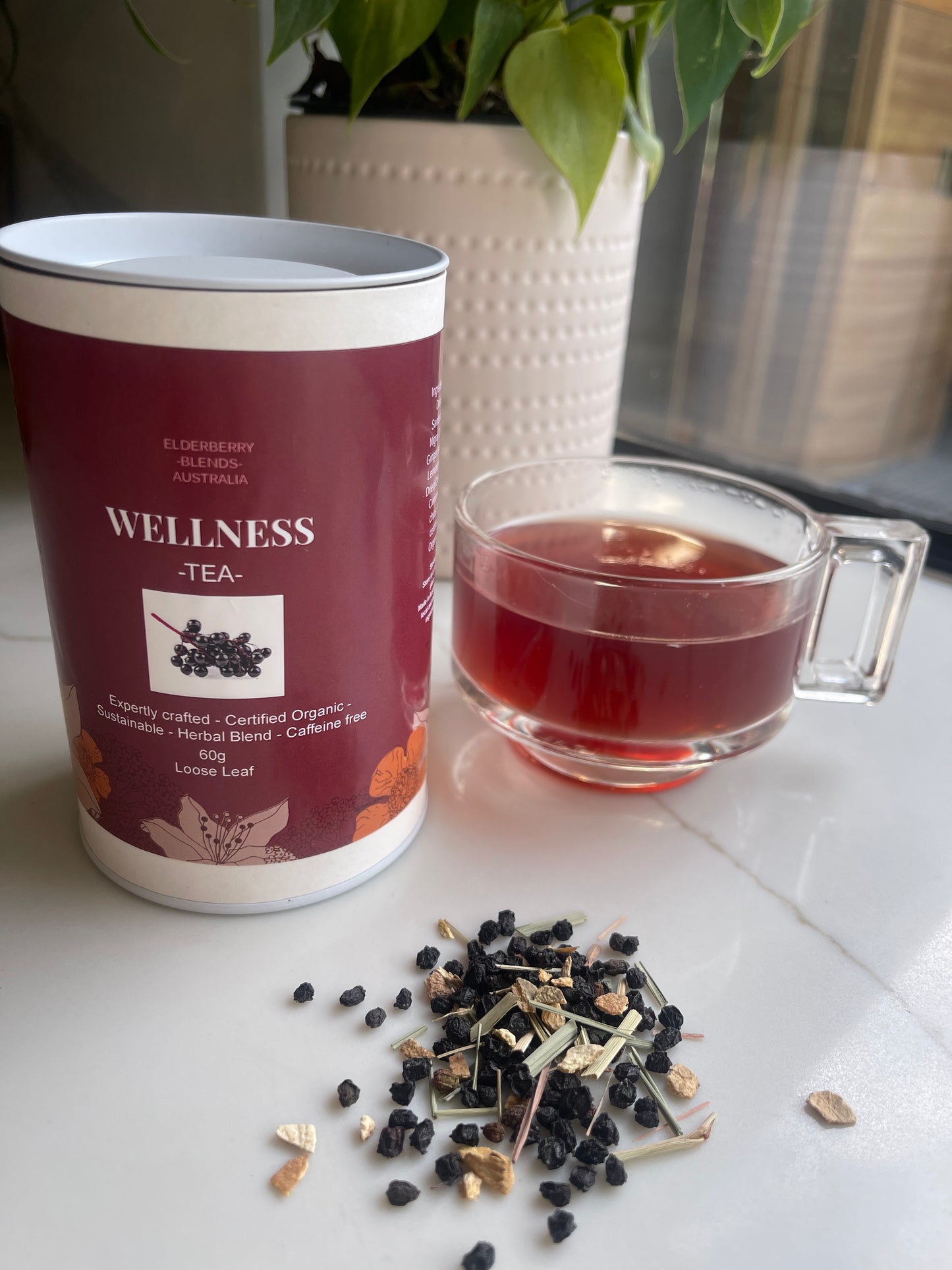 Amazing for allergies!!
I have been enjoying this tea, the taste and knowing it's great for my health. However, recently I was suffering from really bad hayfever, like I have never experienced before. After a day of a constant dry cough I decided to have some of this tea and the results were amazing, felt a lot clearer later that night. I even gave it to a friend of mine who was suffering from a dry cough and they wanted more ❤️
Loving it!
Quick delivery and great communication. We have just almost finished a bottle now. So far loving it but wished the bottle is non-drip, when pouring out.
Love it!
Really enjoy the flavour of this tea!
My absolute favourite!
My fave tea now, not to mention how much I love the deep flavour and complexity of this tea yet so yummy, honestly if I could only get one tea this would be it!
New favorite tea!
I absolutely wholeheartedly advocate for this wellness tea in taking care of me from the inside ❤️ Such a beautiful self care package for yourself or for someone you love 😍 I added fresh ginger for an extra kick and my tastebuds were in for a treat! I love love love it ❤️