Elderberry Tincture
Regular price
$39.00 AUD
Sale price
$39.00 AUD
Unit price
per
Description

This is an organic folk method tincture,  hand crafted extract from the berries of the Elder-tree, Sambucus Nigra.

Elderberry is a powerful anti-viral shown to be especially effective against influenza. It not only works as a preventative but in double blind studies has been shown to reduce symptoms and shorten the duration of the flu by 4 to 5 days. (Norway 1999 - 2000)

This is an extract as opposed to a common syrup so it is far more potent, faster acting but much less sweet.

Not everyone loves the taste of a tincture, they can tend to be bitter or "spicy" to some. If you (or your children) don't like the taste, you can either dilute it with a little bit of water to make the flavor milder, or you can add it to a bit of juice.

Extracts/Tinctures are administered under the tongue and absorbed directly into the blood stream. 

Our extracts/tinctures are packaged in light-resistant amber bottles and should be stored in a cool, dry place. Typically our products are potent for 3 years + from the date of creation.
Ingredients

Organic Elderberries, made from a single herb with a grain alcohol menstrum. Made by a cold process method that extracts the  maximum amount of vitamins, minerals, and active constituents of the  herbs, tinctures. (Contains Organic Alcohol) - Shelf life of 3 years.

Elderberry is a plant that is most highly recognized as a natural health remedy, to support immune systems.  
All of our elderberry products are made from the dried berries of the Sambucus Nigra plant.



WHAT ARE SOME BENEFITS?

The berries and flowers of elderberry are packed with antioxidants and vitamins that may boost your immune system.

They could help tame inflammation, lessen stress, and help protect your heart, too.

Some experts recommend elderberry to help prevent and ease cold and flu symptoms.




WHAT MAKES YOUR ELDERBERRY PRODUCTS DIFFERENT FROM THE KIND I CAN BUY AT THE GROCERY STORE?

Two things distinguish us from store-bought elderberry syrup: ingredients and cost.

As opposed to glucose syrup and other additives, we use raw, local honey in our syrup. Also, we don't add preservatives to our syrup, and our berries are certified organic. We make fresh weekly. 

WHERE DO YOUR ELDERBERRIES COME FROM?

We source dried organic elderberries from Bosnia, Croatia and Albania. They are Australian passed certified organic. 

WHY IS YOUR SYRUP NOT SHIPPED COLD?

Our syrup is certified as "non-hazardous" which means that it does not create a hospitable environment for harmful bacteria to grow. Our instructions to refrigerate upon arrival are for quality purposes, not safety. Being outside of the fridge for even up to week may take a few days off its full shelf life of 60 days but not compromise the safety of our product. We recommend getting it in the fridge upon arrival!

 
Suggested use

Take 2 mL (2 pulls from dropper) once daily. Shake well, before use. May be taken directly by mouth or added to water, juice, tea or your favorite beverage.

Warning:
If you are pregnant or lactating, consult a healthcare professional before using this product.

KEEP OUT OF REACH OF CHILDREN. Store in a cool, dry place. Do not use this product if the safety seal on the bottle is broken.
Disclaimer

I'm not a doctor. All information is intended for your general knowledge only and is not a substitute for medical advice or treatment for specific medical conditions. You are responsible for your own health and for the use of any remedies, treatments, or medications you use at home. This product has not been evaluated by the Therapeutic Goods Administration (TGA Australia) and is not approved to diagnose, treat, cure or prevent disease.
Share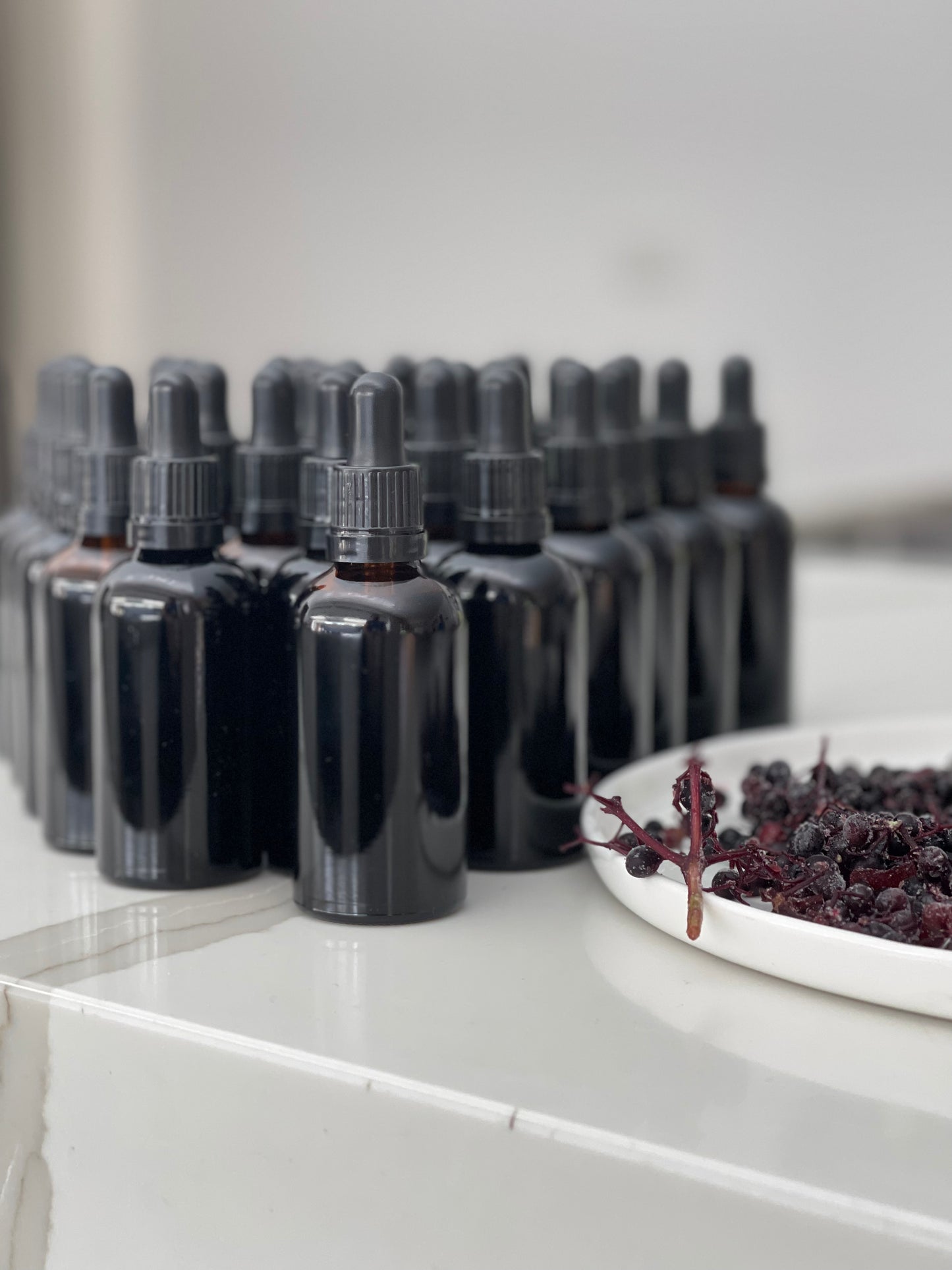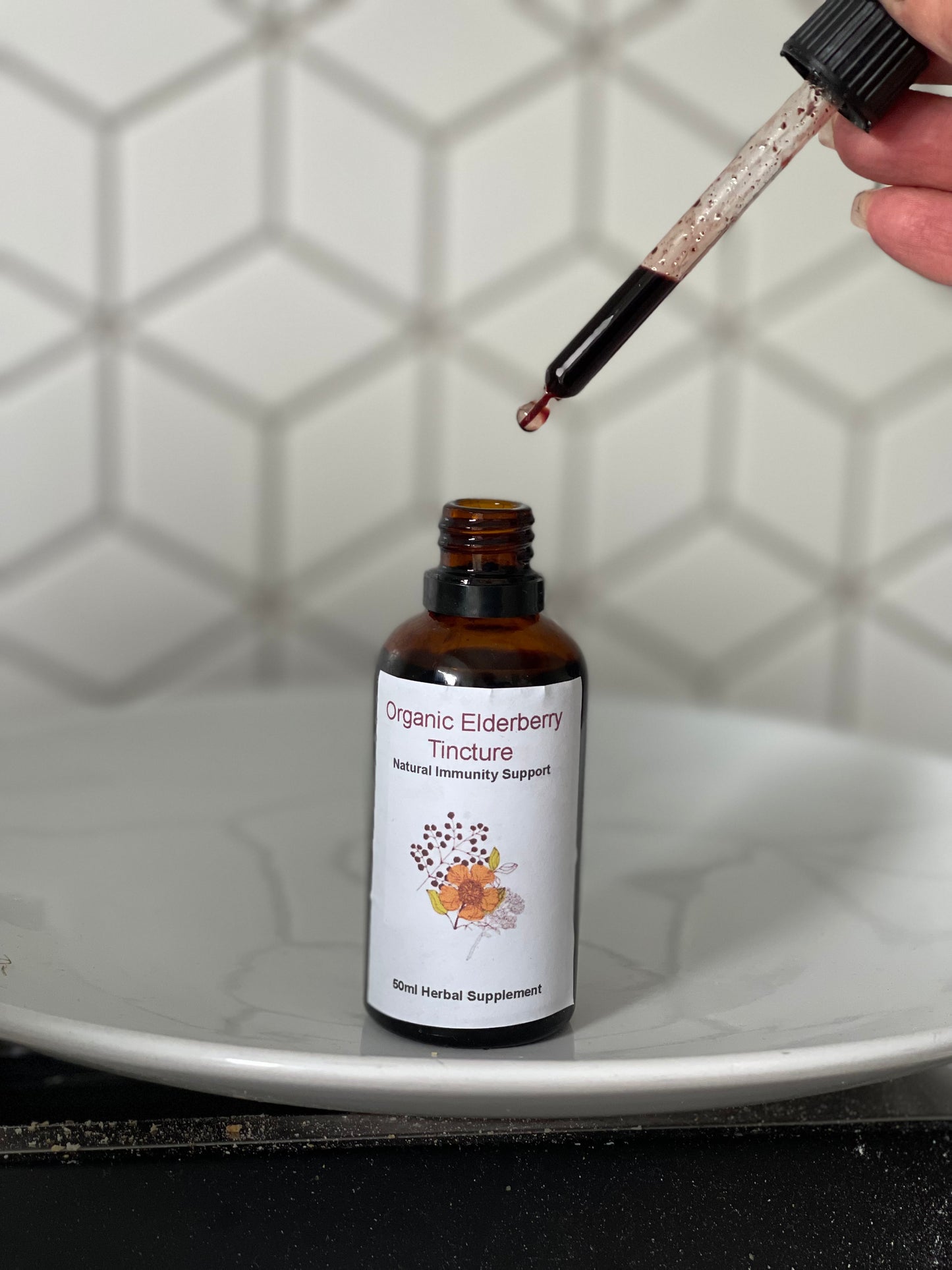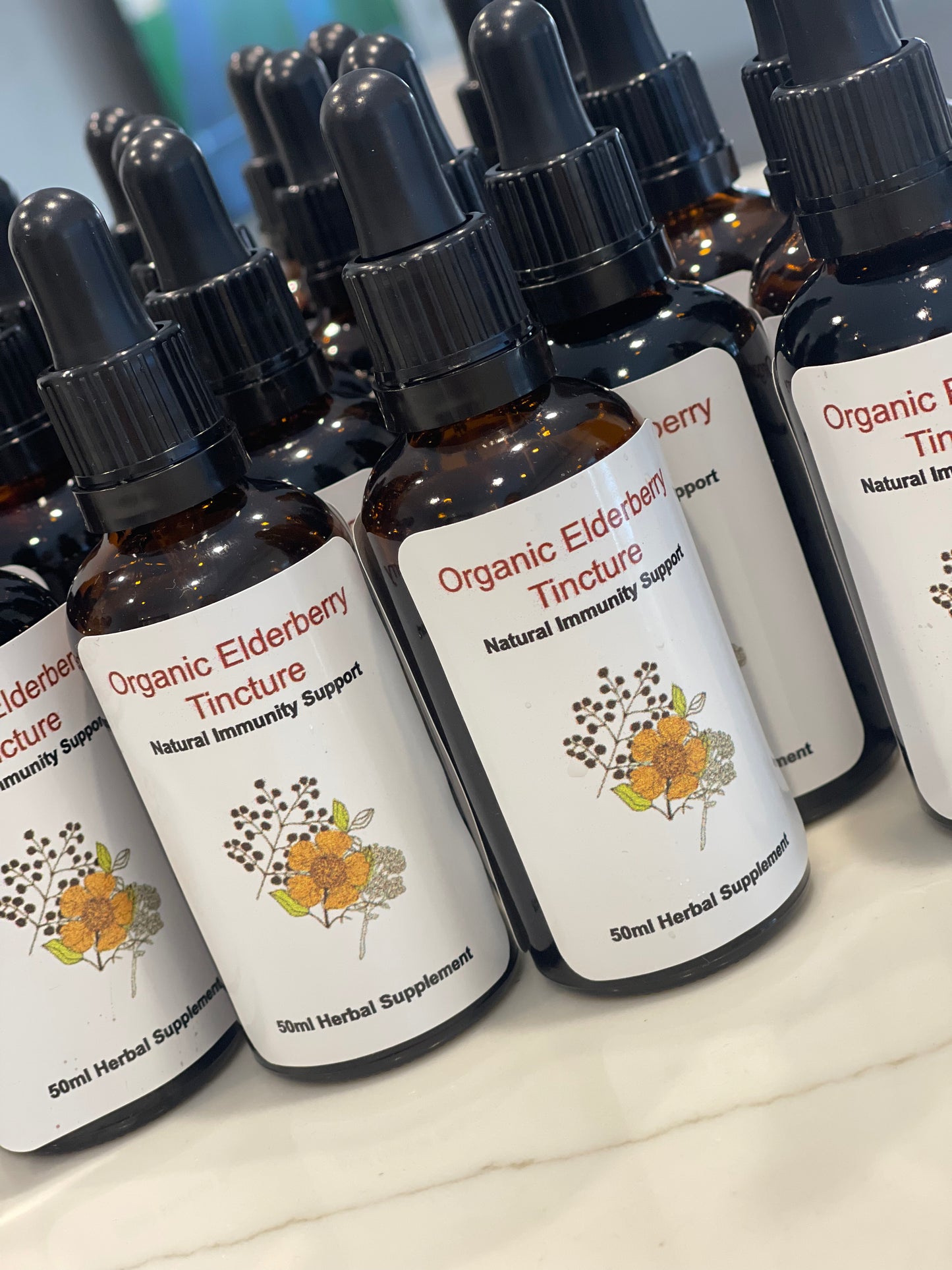 Supreme Health in a bottle
This product is so amazing! I feel so healthy I can't describe it. Love all your products which I have and the tincture is going straight to the top as well. Thank you immensely! 💜
Organic Elderberry Syrup and Tincture
I purchased the products mainly to try them out as it was recommended by a friend. To my surprise, both products were beyond amazing. My whole family was sick with flu at the time and these products really helped get rid of the cough and gave the immune system a boost. We all use them on daily basis. I honestly couldn't recommend them enough.
Great product
I got his product to help me with nerve pain, so far it seems to be helping keep it bearable.
Sore throat and cold resolved in 4 days
The Elderberry syrup is amazing! At the first sign of a cold I took the syrup 4 times a day and bam, my sore throat and cold resolved completely after 4 days.
Thank you so much. I should also add my husband couldn't get over the after effects of that virus going around, tried everything. Then he started taking the syrup 3 times a day and it resolved after finishing his first bottle.