Organic Elderberry Powder
Regular price
Sale price
$48.00 AUD
Unit price
per
Give your Smoothies a boost.
Share
Description

Our Organic Elderberry Powder (Sambucus Nigra) is pure, natural, and good for you. Packed with vitamin rich antioxidants, designed to keep you healthy, refreshed and feeling amazing.

Its and utra-convenient way to get your daily fix of immunity boosting antioxidants. Elderberry is know for it's immune supporting benefits, flavonoids antoxidants, anti inflammatories, and anthocyanins.

100% Certified Organic, Non-GMO, Raw, Gluten-Free, VeganOur freeze-dried elderberry powder is made from 100% elderberries with no additives and has antioxidants, polyphenols, Vitamin C, anthocyanin and the flavonol, quercetin, and many other nutrients to help boost your immunity. Our elderberry powder can be used to help support the immune system, help clear up skin, help with heart health and much more.
Ingredients

100% Organic Sambucus Nigra (Black European Elderberry) and Organic Beetroot powder 8%.

Elderberries are packed with vitamins and antioxidants that may boost your immune system. Elderberries have been reported to help tame inflammation, lessen stress, and help protect your heart.

Beets are full of superpowers too with their phytonutrients. They can help fight inflammation being a source of the nutrient betaine. And they're rich in all sorts of nutrients including Vitamin C, manganese, potassium, Vitamin B6, and folate.

The ingredients in our products are grown and processed without the use of synthetic chemicals or fertilisers and are free from genetically modified organisms (GMOs) and irradiation.

Elderberry is a plant that is most highly recognized as a natural health remedy, to support immune systems.  
All of our elderberry products are made from the dried berries of the Sambucus Nigra plant.



WHAT ARE SOME BENEFITS?

The berries and flowers of elderberry are packed with antioxidants and vitamins that may boost your immune system.

They could help tame inflammation, lessen stress, and help protect your heart, too.

Some experts recommend elderberry to help prevent and ease cold and flu symptoms.




WHAT MAKES YOUR ELDERBERRY PRODUCTS DIFFERENT FROM THE KIND I CAN BUY AT THE GROCERY STORE?

Two things distinguish us from store-bought elderberry syrup: ingredients and cost.

As opposed to glucose syrup and other additives, we use raw, local honey in our syrup. Also, we don't add preservatives to our syrup, and our berries are certified organic. We make fresh weekly. 

WHERE DO YOUR ELDERBERRIES COME FROM?

We source dried organic elderberries from Bosnia, Croatia and Albania. They are Australian passed certified organic. 

WHY IS YOUR SYRUP NOT SHIPPED COLD?

Our syrup is certified as "non-hazardous" which means that it does not create a hospitable environment for harmful bacteria to grow. Our instructions to refrigerate upon arrival are for quality purposes, not safety. Being outside of the fridge for even up to week may take a few days off its full shelf life of 60 days but not compromise the safety of our product. We recommend getting it in the fridge upon arrival!

 
Suggested use

Adults:
One teaspoon a day

Children
Half a teaspoon per day. 

Our Elderberry Powder packs a lot of nutritional punch. So use in a small dose, adding a little goes a long way!

I suggest using a small amount and working up to what tastes good to you. Superfoods often have an intense flavour that's perfect in small amounts but can be overwhelming if overused.

Elderberry powder can be added to any number of juices, smoothies, stirred into a warm bowl of oats or sprinkled atop yogurt, used in baked goods, the list is endless.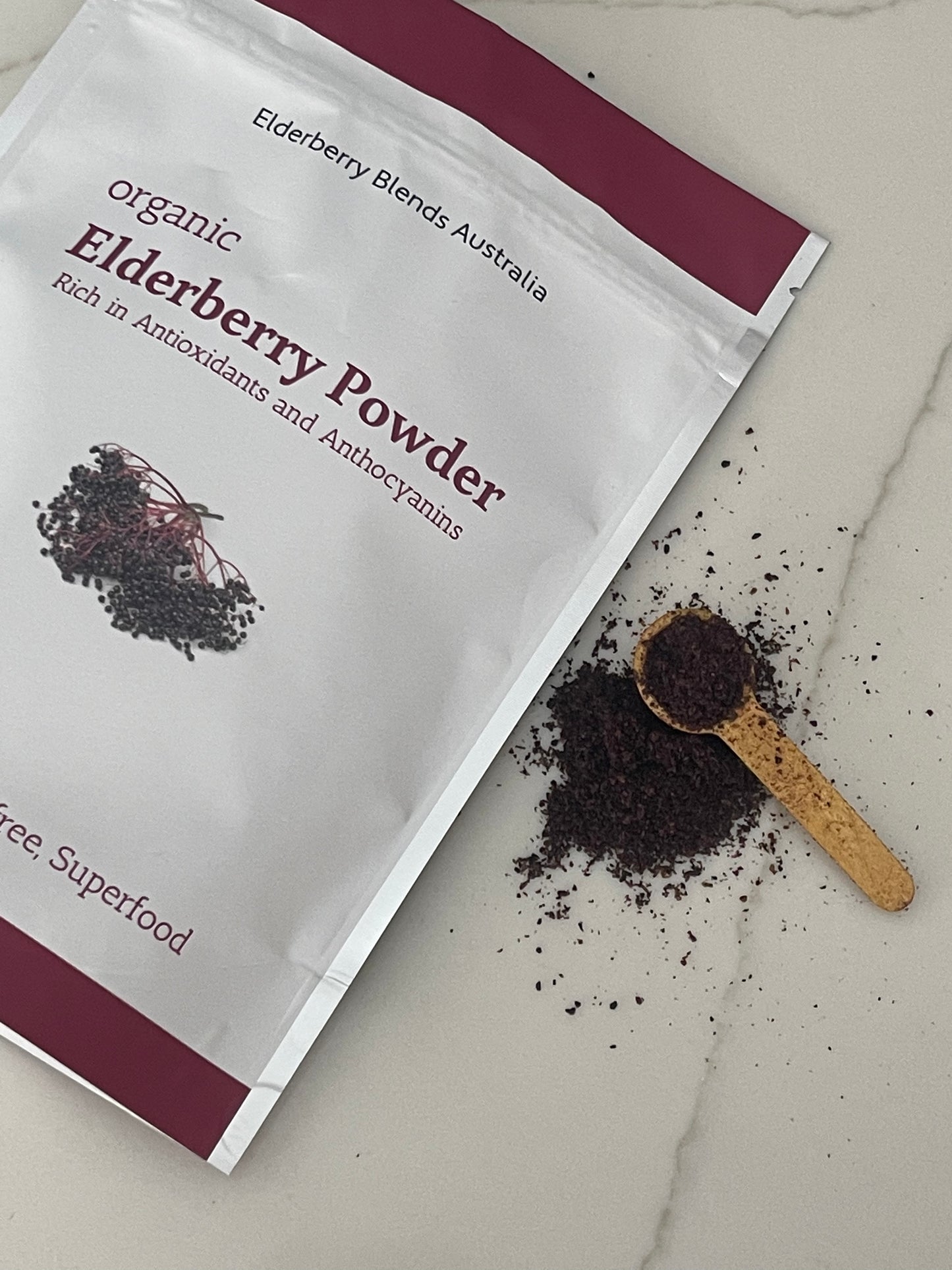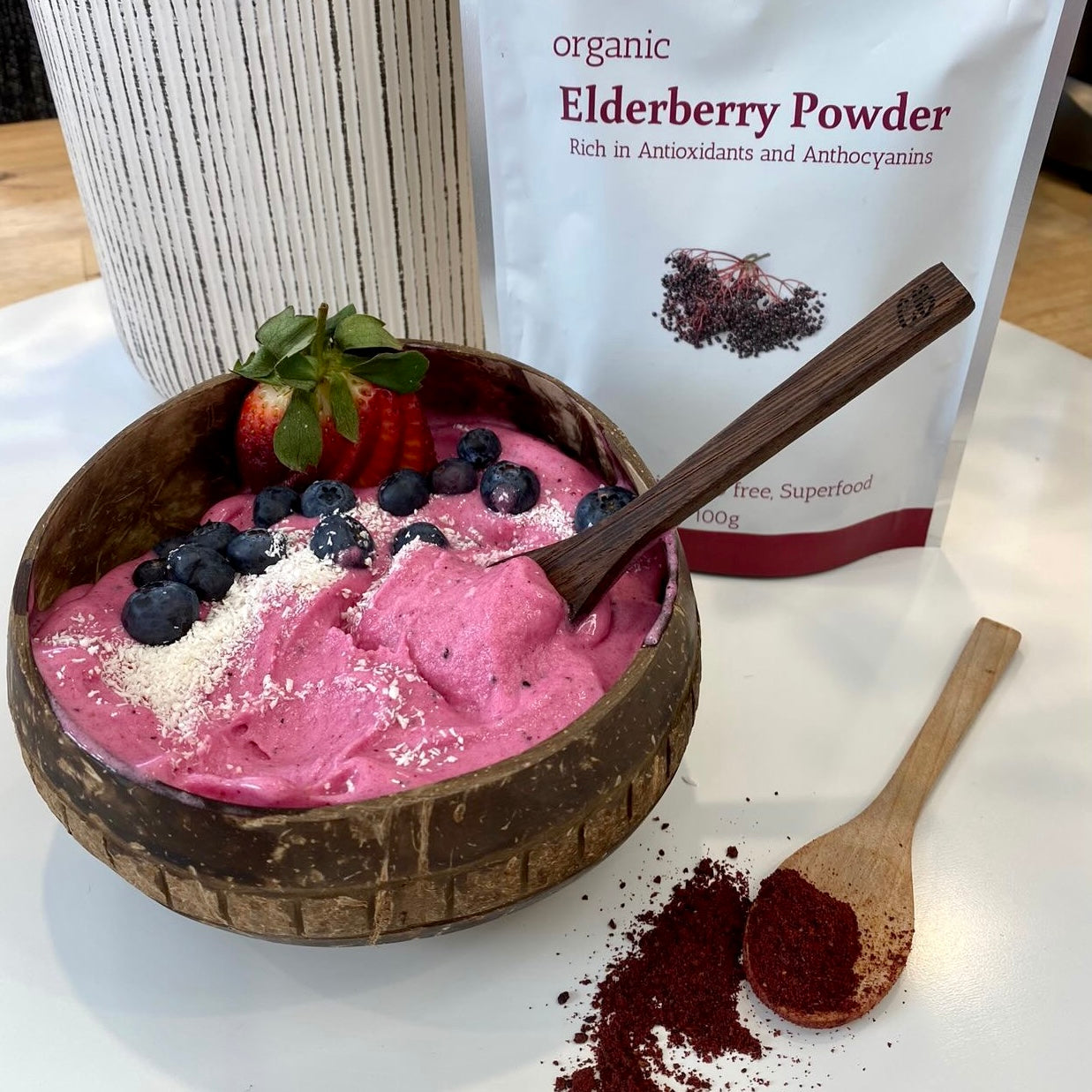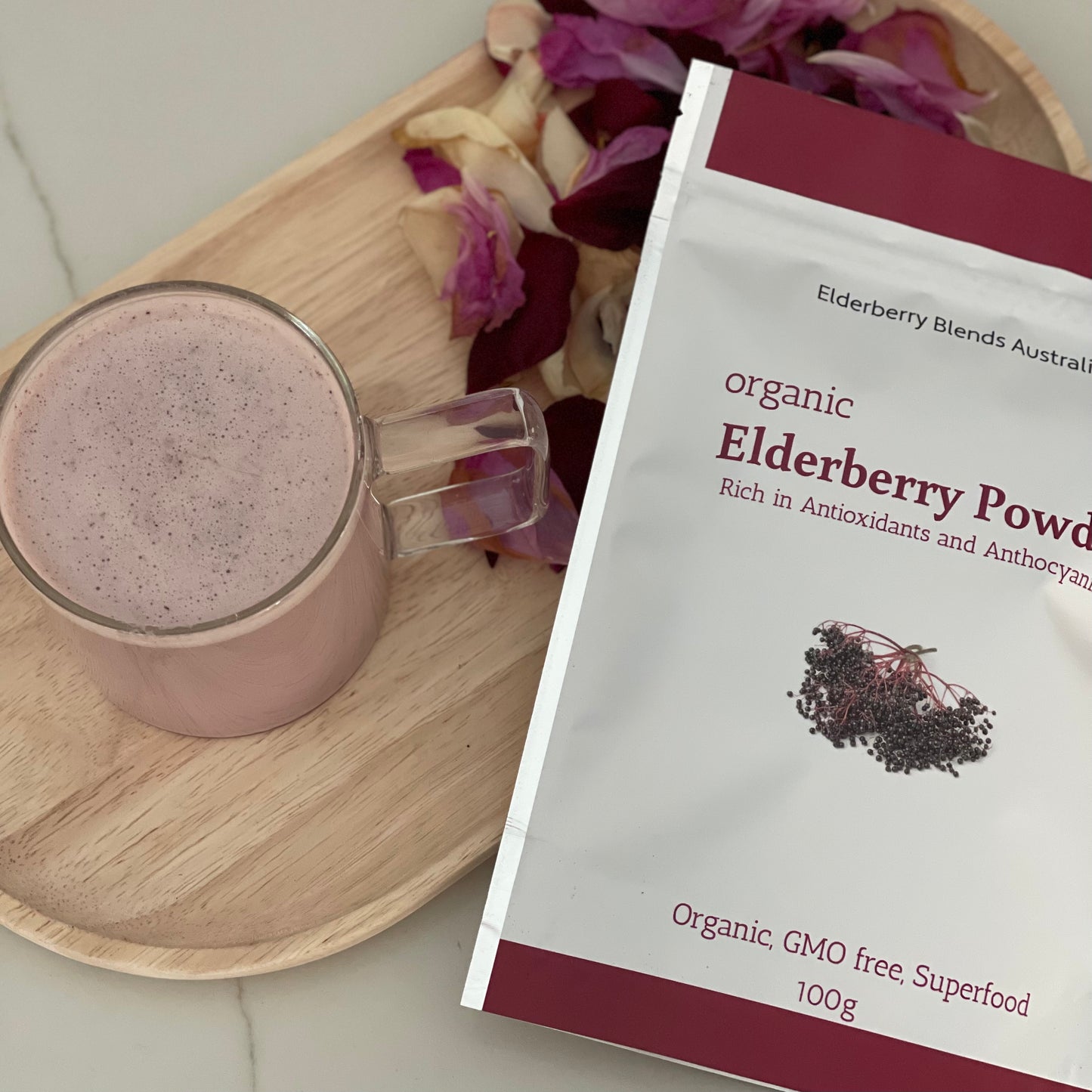 Fantastic
I buy Elderberry powder and I have never felt better and have not had colds flu or anything it's fantastic
Organic Elderberry Powder
Delicious!
This is my number 1 ingredient in my smoothies. It tastes delicious, is so nutritious and makes me feel instantly healthy. I will re-order this permanently now! Love it, thank you so much 💜🌸
Elderberry powder
Perfect for that energy boost when you're not feeling the best. So easy to mix with cool water for a quick drink.
Heaven in powder 🤩
I love how versatile and delicious the powder is. Loved mixed in my greek yoghurt and added to the smoothies .